Back and neck pain are conditions that many people suffer. Spinal stenosis is a condition commonly seen by chiropractors. What is spinal stenosis and how is it diagnosed? According to Mayo Clinic, spinal stenosis is a narrowing of the spaces within your spine. This narrowing can put pressure on the nerves that travel through the spine. Usually, spinal stenosis occurs in the lower back and the neck.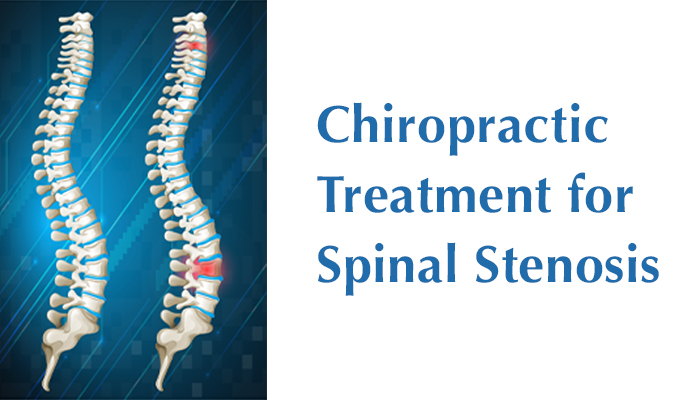 General Information About Spinal Stenosis
There are two kinds of spinal stenosis. How they are categorized depends on where the condition manifests on the spine. The two main types are cervical and lumbar stenosis. With cervical stenosis the neck is affected and in lumbar stenosis the lower back is affected. Lumbar is the most common and usually as a result of osteoarthritis.
While all of this does sound quite painful—and can be—sometimes there is no pain to alert the patient to its presence. An MRI or CT scan are the definitive ways to confirm the condition. Even if there is no pain at the time of diagnosis, eventually it will progress over time.
The general symptoms in the neck are:
Pain in the neck
Balance difficulty
Walking difficulty
Hand, arm, foot or leg weakness and/or numbness
The general symptoms in the spine are numbness and/or weakness in the foot or leg; back pain; and leg pain or cramping if standing for a period of time, walking, or sitting.
How does this condition develop? A short list of how spinal stenosis develops is as follows:
Congenital Herniated disc(s)
Age
Injury to the spine
Ligament changes such as a thickening of the ligaments
Osteoarthritis
Can Chiropractic Treatment Relieve the Symptoms of Spinal Stenosis?
The short answer is YES! Of the clinical studies available, there is some evidence that chiropractic care is useful in the treatment of people with lumbar spinal stenosis. These studies found that 33% of the 368 subjects with spinal stenosis indicated having chiropractic treatment in the past. Also included was 4 individual case studies and literature studies. In general, it was subjectively found that chiropractic treatment found relief from pain. This study is cited in the sources below and the results are encouraging—chiropractic treatment did provide positive results. It was concluded that research in this area is needed. [1]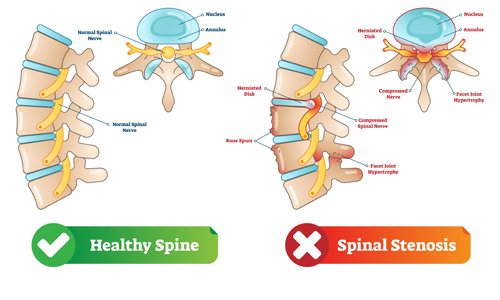 How Does Chiropractic Treatment Help Spinal Stenosis?
Through manual adjustment or traction, chiropractic treatment's goal is to make the space wider for the spinal cord within the spinal canal. See our illustration below. Adjustment relieves pressure by helping to re-align displaced spinal discs. This alleviates muscle strain that puts pressure on spinal nerves, so the patient feels relief—sometimes almost immediately. Over a course of a treatment plan (determined by Dr. Han) correction can lessens symptoms for an extended period of time, with the patient only coming back for periodic adjustments to maintain spinal health.
Another way that Dr. Han can help you is by giving you exercises and/or stretches that also maintain not only spinal health, but general health. In some cases, surgery is a necessity—but trying non-invasive chiropractic treatment methods is always a wise place to begin to feel better. Dr. Han is always happy to do a consultation. His goal is to improve the quality of life for his patients by improving their health with Chiropractic care. Call today to set up an appointment or if you have any questions.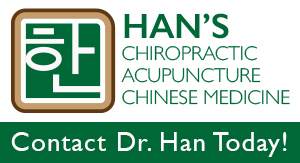 Sources:
J.C.M. (2009, June 9). Chiropractic treatment of lumbar spinal stenosis: a review of the literature. NCIB. https://www.ncbi.nlm.nih.gov/pmc/articles/PMC2780929/