Most of us have heard about the traditional Chinese medical treatment called Acupuncture—but did you know that there is a subset of acupuncture, called auriculotherapy, which focuses specifically on the ear? The French scientist, Paul Nogier, developed this form of treatment in the 1950s, and it was adopted by the Chinese medical community.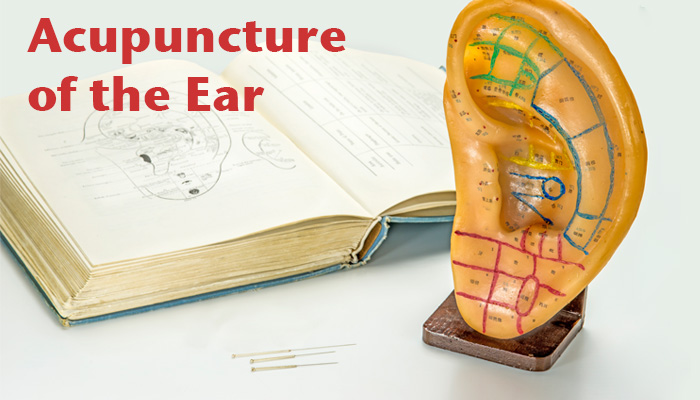 How does Ear Acupuncture Work?
As with full body acupuncture, ear acupuncture improves the body's flow of energy or Qi, to restore or re-balance this energy within your internal organs. Recently, there have been many studies supporting the validity of using acupuncture as treatment method for a wide range of health problems. Ear acupuncture is commonly used for these health conditions:
Anxiety
Back Pain
Constipation
Depression
Migraines/Headaches
Mood enhancement
Pain management
Stress relief/management
This is, of course, not a full list, but a good start. Your practitioner will be able to guide you and create a treatment plan best suited to your health needs.
Benefits of Ear Acupuncture
What is so wonderful about ear acupuncture? It is easy to apply acupuncture to the ear and is a non-invasive procedure. Ear acupuncture is also a great way to treat pain without having to apply needles directly to the area that hurts.
Application of the needles, on various points on the ear, is fast! Once you have the needles in your ear, it's time to relax and let your body begin the process of healing by stimulation of these points and re-balancing your body's energy flow or Qi.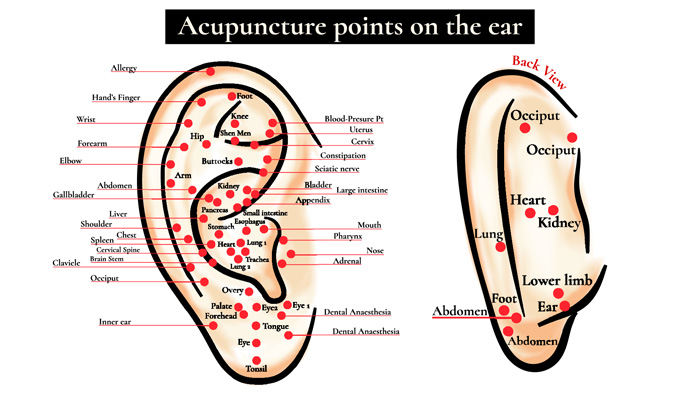 Auricular acupuncture is also good for the health of your heart. The factors listed below, when treated by acupuncture, will help to reduce your risk for heart disease.
Studies have shown that it can:
Manage stress and anxiety
Lower blood pressure
Combats weight gain through appetite suppression
Improve sleep
Help people stop smoking
Ear acupuncture can be used by itself as a treatment regime. However, it is often accompanied by full body acupuncture or chiropractic adjustment.
Acupuncture using Ear Seeds
Additionally, there is an ear acupuncture technique that involves application of seeds, (or tiny metal pellets) which stimulate points on the ear. These pellets or seeds are on tiny bandages that hold them in place. Often your Chiropractic practitioner or Acupuncturist will leave the ear seeds on for a few days. This allows the patient to press on the seeds and have the benefits of acupuncture once they leave the doctor's office. These seeds are very, very small, and most people will not even see them on your ear. If you suffer from anxiety, for example, you can gently press on the seeds and this will help to reduce feelings of stress. Why does it work so effectively? Nerves from the ear connect directly with other major nerve systems in the body.
To enjoy greater general health and relief from many of these common ailments we all too often suffer, contact Dr. Han and set up an appointment today. Licensed and trained in Chiropractic and Acupuncture methodologies, Dr. Han will create the best treatment plan based upon your individual health requirements.