You may be one of the many people who have heard about Chiropractic treatment, but have no idea what it really entails. This blog is specifically written to help demystify the general practice and treatment methods of Chiropractic medicine.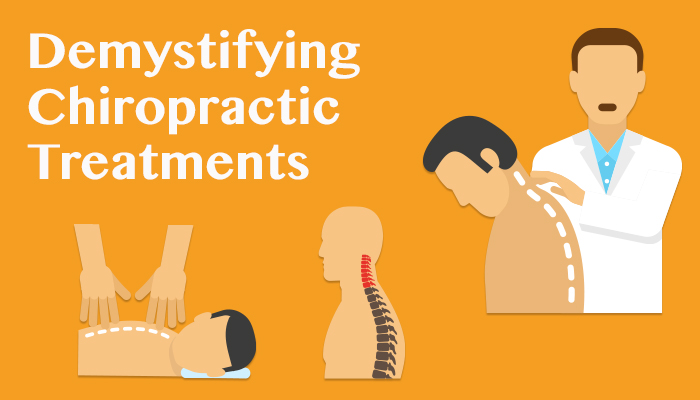 Let's start with the basics. The word Chiropractic is defined as "a system of integrative medicine based on the diagnosis and manipulative treatment of misalignments of the joints, especially those of the spinal column, which are held to cause other disorders by affecting the nerves, muscles, and organs." As a form of medicine, Chiropractic treatment methods have been around since the 1890s.
Chiropractic treatment techniques
Chiropractors manipulate the spine as a primary form of treatment. Spinal manipulation or spinal adjustments seek to correct any misaligned vertebrae, that can be putting pressure on nerves and causing loss of function. Pressure on nerves can cause pain, numbness, tingling or weakness. The official word for misalignment of vertebrae is called "Subluxation." Correction of subluxations relieves and heals symptoms and is usually painless. The patient may feel discomfort or pressure during the process of adjustment.
Adjustments can be performed, not only by hand, but using a small instrument along the spinal column. Utilizing a small instrument, called an activator. This is an FDA approved device that has been found to be effective and safe for chiropractic adjustment. They also go by various name brands such as "ArthoStim Instrument." These devices range from small handheld devices to larger name brand devices (see image below). The big benefit of your chiropractor using one of these is that they reduce the amount of force applied to correct a subluxation. This is a good way to treat a patient who is elderly.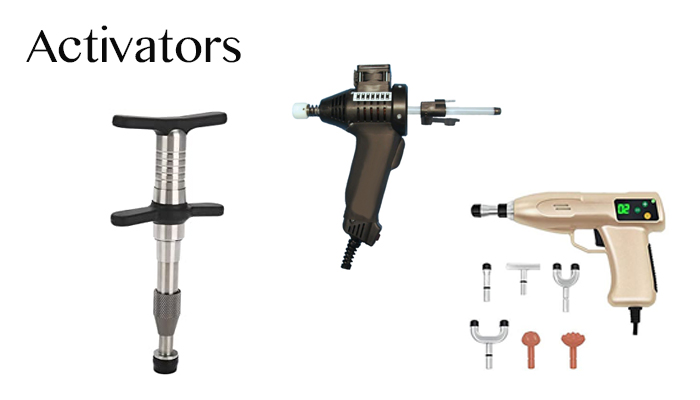 Electrical muscle stimulation or "stim" or is another form of chiropractic treatment. This form of chiropractic therapy is used on muscles that are painful or spasming. Electrodes, soft sticky pads, are attached to the affected area and a small electrical current is applied to create contractions in the muscles. This light current helps to interrupt pain receptors, reduces inflammation and relieves pain. The machine used to apply this therapy is called a TENS machine.
Acupuncture
Acupuncture is also a primary treatment methodology used by some chiropractors. In order to offer this treatment method, additional training and licensing is required. Acupuncture, as a form of treatment, has centuries old Eastern roots from Chinese medicine. The main purpose of acupuncture is to use small needles, at specific places, to re-align a body's 'Qi.' Qi is the body's energy flow and re-alignment of Qi aids in the healing and balancing process of the body, allowing the body to heal itself. Acupuncture is an effective treatment for pain, and inflammation. It can be used to treat a host of illnesses from anxiety and pain to headaches and menstrual cramps.
Chiropractic Benefits
The benefits of chiropractic treatment are easy to see once you understand how it works. Chiropractic medicine, in general, is a non-invasive form of medicine that seeks to harness the body's own natural healing mechanisms. There may be some initial discomfort with adjustment—but this fades when the healing process begins. If you have any questions about Chiropractic medicine, please contact me today or refer to my other blogs for additional information.